Admissions
September 2022 starters
Choosing a school is a difficult process. No prospectus can fully describe the atmosphere and ethos of a community such as Northborough Primary School.
In order to help parents find out as much information as possible, we will endeavour to invite all prospective applicants to book a place on one of our external Parent Tours in the Autumn and Spring terms. We look forward to hosting our tours in person this year and will be following the latest Covid-19 guidance.
Spring 2022 tours will start at 2pm and last approximately 20-30 minutes. Please wear outdoor footwear, we would like to take you in to our magnificent orchard and outdoor classroom. Coats essential as we take you on an external tour of the school building and grounds.
Tours will take place on:
Thursday 6th January 2022
Wednesday 12th January 2022
In the meantime, please have a look through our school prospectus which gives a good flavour of life at Northborough School.
Click here for prospective parent guide to the Foundation Stage at Northborough School
Click here for our 2021 - 2022 School Prospectus
Click here for the Peterborough Primary Schools Admissions Booklet
Click here to book a place on one of our tours
Northborough Primary School (part of the Soke Education Trust) has adopted the Peterborough Admissions Arrangements.
Children usually start school in the September of the academic year in which they reach five years old. However, where the school or parents believe that an individual child is not ready for this, they should be permitted to agree on later or part-time admission. Legally, children are not obliged to attend school until the term following their fifth birthday.
Entry in to the Foundation Stage
Registration
September - Application process for starting in Foundation begins. Opportunity for parents/carers to visit individual schools.
November - Parents, or prospective parents, visit school by booking on to one of the schools prospective parent tours (dates and details in light of Covid-19 to be confirmed) with the Headteacher if they wish.
Mid January - National Closing Date - Closing date for completed online applications. We strongly recommend that you do not delay your application to the last minute in case of technical problems. SIFS to have been returned to schools directly.
April - Parents that applied online can log onto Peterborough city Council' website from 12.30am to see which school their child has been offered. Allocation information will be published on the Peterborough City Council website. Letters will be posted 2nd class to parents who did not make an online application. No decisions will be issued by telephone.
Early May - Closing date for parents to either accept or refuse the school place offered. If the parent does not reply, the offer will be withdrawn
June - Parents are invited to attend a new intake presentation where teachers will give an overview into the life of the Foundation Stage classroom. There will also be an opportunity to meet the catering team and members of Sunflower Seeds Childcare (before/ after school club).
In June/July - The Foundation teacher will visit feeder nurseries, pre-schools and childminders by appointment and with parental consent.
July - Children and their parents are invited in to school for a 'taster session'
September - Children to start school full or part time by pre arrangement
Criteria for Admission
Looked after children.
Verified medical need relating to the pupil. (The requirements are strict and need certification by a doctor or psychologist).
Children living in the school's catchment area.
Children who have brothers and sisters in attendance at the school.
Children living closest to the school by the shortest available safe walking route.
For further details please see the Peterborough Primary Schools Admissions Guide.
September Intake
At Northborough Primary School, our first concern is for the individual child and so we have a gentle Intake Procedure that ensures the children's first days at school are happy and calm, and causes little stress.
The children are divided into two groups and each group starts school on a part-time basis, attending for either the morning or afternoon session. This gives the Foundation Stage staff time to be with the children, spend time helping them to adjust to their new situation and to assess their stages of development.
As each group settles, the children are invited to stay for lunch. This can be a little overwhelming so Foundation children go to lunch earlier than the rest of the school.
After a short time, children are offered a full-time place; the majority of the children are attending school full-time by the second week in September. If your child needs a little longer on a part-time basis however, this can be discussed with the class-teacher. We will discuss how the child has settled, their age, and how they are coping physically, mentally and emotionally.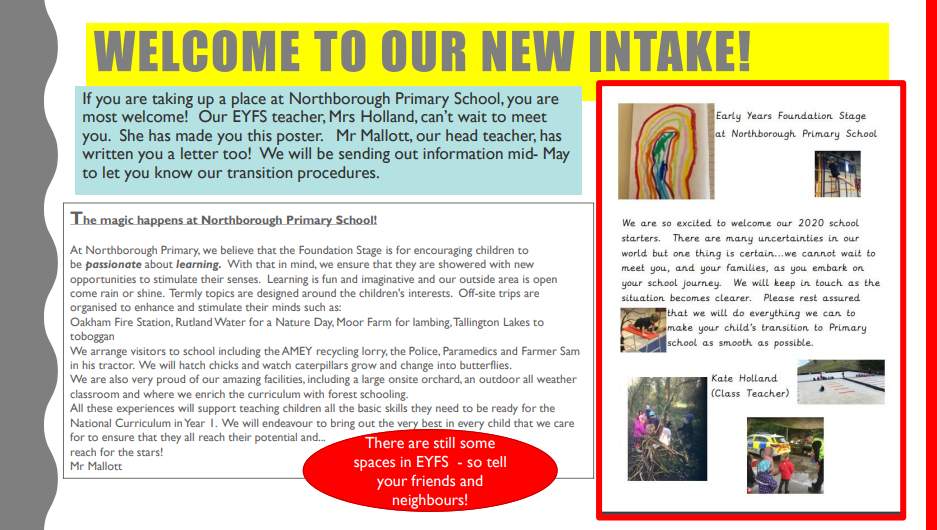 Admission to school at other times
Children often start school at times other than the Foundation Stage i.e. if you are moving to the area. In the event of this happening with your child, every effort is made to make you and your family welcome and to make the transition to the new environment as smooth as possible. Please contact the school if you have any anxieties about your child. You are always welcome in school.
The agreed admissions number for class groups is 30, with the overall school total being 210 pupils. These totals may only be exceeded if particular circumstances arise.
Appeal Procedure
Any parent of a child not being admitted is entitled to appeal the decision to the Department for Education (DfE) for reconsideration.
Confirmation of Places
A letter is sent out as soon as places in the school are confirmed by Peterborough City Council Admissions Team.
Office telephone number: 01733 252204
Email: office@northborough.peterborough.sch.uk